The phrases "home care services" and "home health care" are frequently used interchangeably in conversation, but there are very important distinctions to be aware of when searching for assistance for your loved ones. Home care generally refers to non-medical care provided by caregivers. These caregivers may not have a state certification but have received agency training and have years of experience with caring for seniors. Home care assistance is considered supplemental care for an aging adult or elderly person who requires extra help in their home, whether the need is post- rehab or long-term care. Home care services range from personal assistance with bathing, grooming, and incontinence care to running errands, grocery shopping, meal preparation, and companionship. Depending on the needs of the senior, a schedule of caregivers can be created whether they work overnight or just a few hours each day. Elderly care services do not need a physician referral, and is often private pay, or sometimes included in a long-term care insurance policy.
Home health care is a Medicare reimbursed home medical and personal care program. First, a physician order is required and an intake nurse or medical professional will perform an initial assessment to determine what exactly the needs of the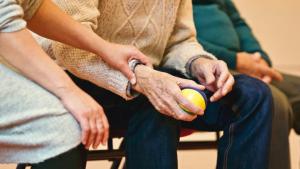 senior are. After the initial intake meeting in the home, a plan of care may include a caregiver to come weekly to help with bathing, or a home health nurse will be scheduled to visit in the home to dispense medications, draw blood for labs, track vitals, and help with medical issues relating to oxygenation, colostomy bags, and catheters among many other things. These visits are scheduled shifts and depending on the task, they are allotted a specific amount of time. Home Health is meant to be a short-term use program in hopes that the senior rehabilitates and will no longer need the services.
Understanding exactly what your family requires is one of the first steps. After identifying these areas with your senior, you may see the need to search for senior care services. My Choice Home Care strives to help families with an in-depth assessment and qualified caregivers following a specific care plan developed by the senior/family and a registered nurse. Home Care is meant to make living at home as easy as possible, and provide respite for family members. My Choice Home Care is a senior care service that serves clients in Macon County, Jackson County, and Haywood County in North Carolina. Counties served in Georgia are Rabun County, Towns County, and Habersham County. The counties served in Upstate South Carolina are Oconee County, Pickens County, and Anderson County. Call (828) 200-9000 to speak to someone today or contact us through our website here if you or a loved one would like to enjoy the benefits of living independently in your own home.