While scammers have been around for many years, they have become increasingly aware of the ease in which seniors can be defrauded by elderly scams. According to the most recent report from the Federal Bureau of Investigation's elderly scams statistics, losses incurred by seniors jumped from $343 million to $1.685 billion from 2017 to 2021, equaling an increase of 391.9%. Here are some of the most common scams targeted at seniors, and how to avoid them.
What are Common Elder Abuse Scams?
Medicare Scams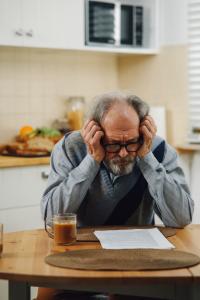 Scammers call seniors and say that they need to pay a fee to receive their new benefit card. They may also say that the enrollee is entitled to a refund, and they must give their Medicare information and banking numbers to receive it. To protect from elder scams, know that Medicare representatives will never ask for payment information on the phone or come to your house. If you have questions, you can call the number on the back of your Medicare card.
Family Emergency Scams
Scammers may call and say "Hi Grandma, guess who this is?" Excited or confused seniors may give a name, and when the scammer has an identity to follow through with, they will say they've been in an accident or have been arrested and need money. Unwitting seniors may then wire the money directly to the scammer. They will often try multiple times. To avoid this dilemma, ask personal questions about the family that a scammer would not know.
Sweepstakes Scams
This scam has been ongoing for many years, because it still works. The Council on Aging reported that at one point, scammers were stealing around $300 million dollars annually, just by carrying out elderly scam calls telling seniors they had won the Jamaican lottery. Seniors would load money onto a prepaid card or wire transfer, to pay "processing fees," or "taxes." Just remember, it's impossible to win a sweepstake or lottery that you never entered.
Help for Preventing Senior Scams and Fraud
These 3 common elderly scams are among thousands that swindle seniors every day, an example of elder abuse that needs to be stopped. To add your phone number to the National Do Not Call List, please visit https://www.donotcall.gov/. If you feel that you or someone you know has been a victim of these scams, please call The National Elder Fraud Hotline at 833-372-8311.
My Choice Home Care is a senior home care service that serves clients in Macon, Jackson, and Haywood Counties in North Carolina. Counties served in Georgia are Rabun, Towns, and Habersham. Counties served in Upstate South Carolina are Oconee, Pickens, and Anderson. Call (828) 200-9000 to speak to someone today or contact us if you or a loved one would like to enjoy the benefits of living independently in your own home.