Talking to your loved ones about needing extra help around the house can be a difficult conversation for families. Aging adults may recognize signs of cognitive or physical decline, but don't want to be a burden for family members. In turn, children of aging adults may notice a need for more assistance, but are unsure of how to bring up the topic of home care. Here, I have provided some helpful hints that may make the talk a little bit easier.
Understand their point of view. An aging loved one may feel that they are losing their independence, but it's important to point out that home care is also preventative care. A home care agency would assess your home and routines for safety concerns, helping to keep your loved one from falling, making medication errors, or memory related neglect.
Be confident in your approach. You will need to be assertive, but not aggressive. Practice starting the conversation with a friend. Anticipate questions, and try to have a ready response that is reassuring, not demeaning or "pushy."
Think about how you word your intentions. Therapists recommend using "I" language instead of "you" language in difficult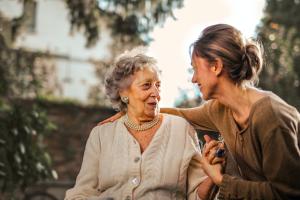 conversations. For instance, "I feel that an extra set of hands/eyes could benefit us around the house," rather than "You look like you could use some extra help." Using this technique makes your loved one less defensive, and more receptive to your ideas.
It's always helpful to have a medical professional to speak to your loved one. A medical professional can speak plainly but also answer any questions they may have, with reassurances that family may not be able to give. It's understandable that a family experiencing this for the first time can be uneasy or unsure of how to approach talking to a loved one about extended care, but rest assured primary care physicians have dealt with this exact same situation many, many times over.
My Choice Home Care is a local, family-owned agency that can help. We offer services that include assistance with bathing, grooming, dressing, and incontinence care, as well as meal preparation, errand running/grocery shopping, pet care, and escorts to appointments. We service Macon, Jackson, and Haywood counties in North Carolina, Rabun and Towns counties in Georgia, and provide care in Oconee and Pickens counties in South Carolina. Please give us a call at (828) 200-9000 or contact us through our website here. You can also check out our blog post on Preventing Falls at Home. We would love to treat your family as our family.
_________________________________________________________________________________________
Our article is published in RABUN Neighbors magazine