How to Care for Aging Loved Ones
By Amber Kevlin, RN
Visiting elderly loved ones can sometimes be difficult to plan, especially if there has been a decline in physical activity since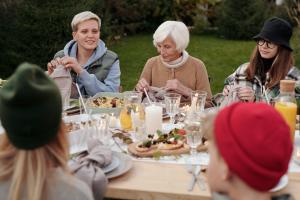 you have visited them last. Seniors tend to choose activities based on their bodily limitations. Disease, pain, and chronic conditions may alter family plans, but there's no need to shelve family gatherings yet! If aging family members are seemingly struggling with a rigorous family outing, there are still plenty of activities to engage them and keep them connected with family.
Engage in sentimental pastimes. Whether it's baking fresh bread or cookies, building ships in bottles, or watching old favorite movies, everyone loves it when their hobbies can be shared and enjoyed by others.
Reminisce with them. Crack open the old family photo albums or yearbooks, and let your loved one recall long- treasured memories of friends and family past. Even seniors with memory impairment issues may keep long ago memories close to their hearts and can remember certain things with intricate detail.
Do some research online with your loved one. Even after the visit is over, you still want your family members to remain engaged and as active as possible to avoid the loneliness and isolation that sometimes come with aging. Help your loved one find a nearby book club or interest-geared groups, such as bird-watching or knitting, or even a nearby veteran's association.
If you notice a change in your aging family member's behavior, such as depression or withdrawal from usual activities, consider home care services for companionship. Oftentimes, an in-home caregiver may also help with housekeeping, meal preparation, and running errands as well. Aging adults need recreation and social connections to stay happy and healthy, just like everyone else.
Are you or a loved one looking for in-home elderly and senior services? My Choice Home Care is a senior care service that serves clients in Macon County, Jackson County, and Haywood County in North Carolina. Counties served in Georgia are Rabun County, Towns County, and Habersham County. The counties served in Upstate South Carolina are Oconee County, Pickens County, and Anderson County. Call (828) 200-9000 or visit our website to speak to someone today if you or a loved one would like to enjoy the benefits of living independently in your own home.