Everyone knows that high blood pressure is a danger to your health, but low blood pressure, also called hypotension, is rarely talked about. While for the most part, low blood pressure is not an emergency situation unless you experience unsettling symptoms, it's still best to keep a close eye on, and report any low readings and side effects to your primary care physician.
Low blood pressure means that the force needed to push blood throughout the body is lower than it should be. If you are not feeling any effects, you may be fine without interventions, but what makes low blood pressure so dangerous is the risk it can pose to seniors for falls when light-headedness and dizziness are effects. An extremely low blood pressure can even cause shock or even death. This may happen when organs are deprived of the oxygen and nutrients they need to function.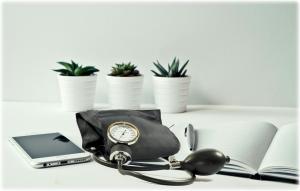 At this time, the regularly accepted "normal" blood pressure reading is 120/80 mm Hg or lower. But just like every other regulatory system in the body, this number can change due to many circumstances, such as age, lifestyle choices (drinking alcohol and smoking tend to raise blood pressure), as well as stress levels and nutrition. A slight rise may be normal for someone 80 years old, with a reading of 138/86 mm Hg.
So, what is considered low blood pressure in seniors?
Typically, any reading of 90/60 mm Hg or below is a low reading. If you or a loved one are experiencing any of the listed signs and symptoms of low blood pressure, please seek medical advice immediately:
Weakness
Extreme fatigue
Fainting
Rapid or irregular heartbeat
Nausea
Blurry vision
Confusion
Shallow breathing
If you aren't experiencing severe symptoms but feel a bump in your blood pressure may be warranted to reduce mild symptoms, try these tips at home:
Increase sodium intake, wisely. Make sure a doctor can advise you for an increase in sodium intake in your health care plan.
Drink more water! An increase in fluids means an increase in fluid volume, therefore raising blood pressure.
Compression stockings can help circulate blood from the legs back to the heart.
Exercise regularly. Yes, you see this a lot, but because it's truly so helpful in every aspect of personal health care.
While these tips may help at home, make sure to always keep your doctor informed of any lifestyle changes, and if any symptoms persist or interfere with your daily life. Medications may be prescribed to help with low blood pressure.
Are you or a loved one looking for help at home? My Choice Home Care is a senior home care service company that serves clients in Macon, Jackson, and Haywood Counties in North Carolina. Counties served in Georgia are Rabun, Towns, and Habersham. Counties served in Upstate South Carolina are Oconee, Pickens, and Anderson. Email us or call (828) 200-9000 to speak to someone today if you or a loved one would like to enjoy the benefits of living independently in your own home. We offer a free Senior Care Options guide to help you navigate Medicare, Medicaid and other programs for seniors.