By Amber Kevlin, RN
Being a caregiver is a very difficult position, especially if you are caring for aging parents or family members. The exhaustion that comes with not only being a caregiver, but trying to manage your own life affairs can be a terrible strain on your mind, body, and emotions. As they say, "You cannot pour from an empty cup." Here are some tips on managing the stress of caring for an elderly loved one in your home: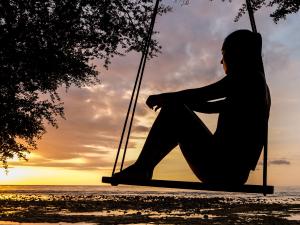 Search for local senior resource centers that may be able to help you find adult day programs, where your loved one can spend a few hours engaging in enriching activities led by a volunteer, giving you a few respite hours each week.
Ask other family members to help out, if possible. It's hard to ask for help, but taking care of yourself is essential for a healthy balance as a caregiver.
Spend any respite time you get doing something specifically for you! Enjoy a hobby or outdoor activity, deviating from your usual schedule. Find a local painting class or group yoga, or ask a friend out for a cup of coffee and relaxed conversation.
Look into speaking with a therapist. A licensed professional can help you navigate confusing emotions, and avoid feelings of resentment and grief that can often come with being a caregiver. Understanding that these feelings are commonly associated with caregiving can also relieve any guilt that may be building up as well.
Look into local in-home care services for either full-time, part-time, or even just a few weekend respite hours. Knowing that your loved one is being cared for by an experienced caregiver can alleviate any worries you may have when leaving your loved one at home. Many in-home care agencies can not only help with bathing, grooming, and toileting issues, they can also help with running errands, meal preparation, and driving to doctors appointments.
Taking care of an aging loved one is hard, but taking time to care for yourself can sometimes prove to be even harder. Sometimes putting yourself first is needed in order to provide the healthy balance between living your life, and helping someone else live theirs.
My Choice Home Care is a senior care service that serves clients in Macon, Jackson, and Haywood Counties in North Carolina. Counties served in Georgia are Rabun, Towns, and Habersham. Counties served in Upstate South Carolina are Oconee, Pickens, and Anderson. Visit us or call (828) 200-9000 to speak to someone today if you or a loved one would like to enjoy the benefits of living independently in your own home.