In-home care is an incredible opportunity when a senior is in need of companionship. Aides and caregivers can provide senior companion services which can help battle feelings of loneliness. Isolation can become a common experience in elderly adults. Companionship can make all the difference.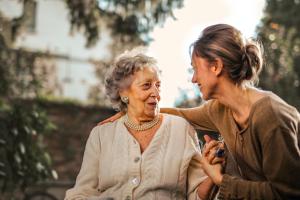 Senior companionship provided by caregivers not only offers social interaction but also promotes mental stimulation. Engaging in conversations, playing games, reading together, or simply sharing stories can help seniors keep a sharp mind and prevent further cognitive decline. Furthermore, having a companion at home ensures that seniors have someone they can rely on for assistance with daily activities such as meal preparation, medication reminders, light housekeeping, and transportation. This support enables them to maintain independence while ensuring their comfort and safety.
In-home care services also provide respite for families caring for elderly loved ones.
Knowing that a trained caregiver is present to offer companionship and support can alleviate stress for family members. Especially those who may have other responsibilities or need time for self-care. Ultimately, the benefits of companionship for seniors through in-home care are invaluable. It not only enhances their quality of life but also contributes to their physical health in a very real way.
Studies have shown that seniors who have rich social lives can also enjoy:
A lower risk for cardiovascular disease. People that suffer from loneliness are 32% more susceptible for a stroke and 29% more likely to develop heart problems than people that engage in social activities.
Lower risk for dementia, as keeping socially engaged also keeps the mind engaged, improving cognitive functioning.
Emotional balance, as being lonely can increase the risk for depression and anxiety.
Are you or a loved one looking for elderly companionship at home? My Choice Home Care is an experienced in-home care service agency that serves clients in Macon, Jackson, and Haywood Counties in North Carolina. Counties served in Georgia are Rabun, Towns, and Habersham. Counties served in Upstate South Carolina are Oconee, Pickens, and Anderson. Email us or call (828) 200-9000 to speak to someone today if you or a loved one would like to enjoy the benefits of living independently in your own home. We offer a free senior care consultant guide to help you navigate Medicare, Medicaid and other programs for seniors.